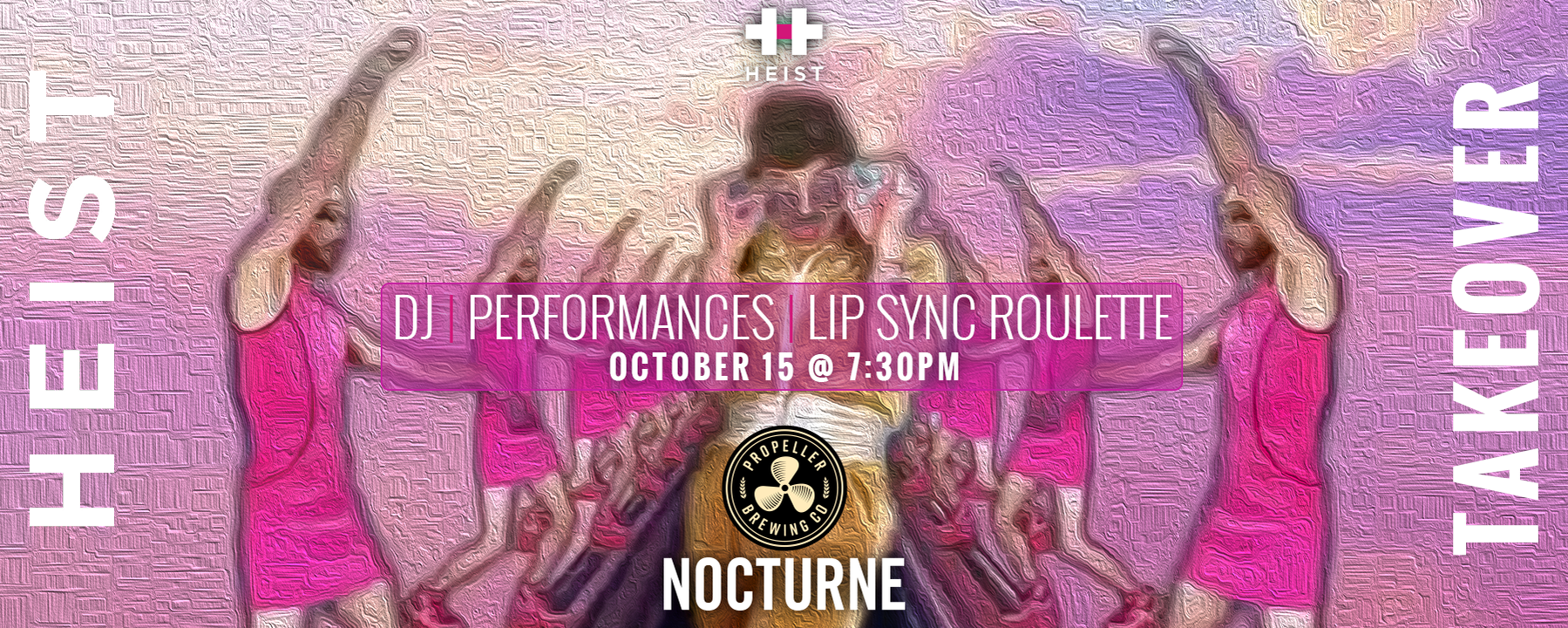 HEIST x Nocturne Takeover Party presented by Propeller Brewing

DJ! Performances! Dancing! Lip Sync Roulette! Costumes! Prizes!
Join us for a Heist Takeover Party in a Zoom room and find some arty community within your distancing.
This event is F R E E! Grab your ticket here.

7:30 PM AST - Special guest DJ set from Rocky Talbot!
Log in and turn it up, say hello, listen and jam while you get made up and ready or just start the DANCE PARTY
8:30 PM AST - SHOWTIME
This takeover features performances by:

!!! Michelle Sylliboy
!!! Nick Dourado
!!! LeeLee Davis
Hosts: Princess Edward and Abel T. Suckizone
Spaceship Captain: Sylvia Bell
Bouncer: Maria Ossa
Live Visuals: VJ Pat
Special guest DJ: Rocky Talbot
Never been to a Heist Takeover Party? Here's what we want you to know:

1. We dress up - and we encourage you to as well! Dress in what makes you shine from the inside out. Drag, high fashion, weird, bright, silly, outrageous, makeup, track suit - it doesn't matter as long as you look and feel good on your own terms. Your fellow party goers will appreciate the energy your look brings AND we'll do a prize giveaway at the end of the night for the best dressed!
2. Heist will be your guides during this social, interactive event. There'll be time to chat, performances, DJ music (dancing!) and our favourite party game Lip Sync Roulette with pre-selected participants. We encourage you to watch the event with your camera on so we can see and feel your beautiful presence, but if that kind of thing makes you anxious you can turn your camera off and just enjoy the party like a live TV show - it's totally your call!
What is Lip Sync Roulette?!
Selected participants (chosen in advance) agree to lip sync a song but the catch is they don't know what the song will be! Unrehearsed unexpected magic! A couple rounds are reserved for those who wish to opt in during the event.
Actual testimonials from previous Heist Takeover parties:
WOW WOW WOW WOW WOW WOW
I am so fucking happy right now
So passionate!
Slaying harder than Pennywise
THE PRODUCTION VALUES
This is so cute and beautiful
amazingggg
dead. Im dead
WHAT HAVE YOU DONE TO US
THIS IS THE BEST THING I HAVE EVER SEEN