What kind of future do you dream of?
LUCID is a hybrid digital and in-person program aimed at developing, supporting and producing work by 13 queer artists within Nova Scotia with a priority towards QTBIPOC population, ages 18 - 30. Participants will be paid a fee between $2000 and $3000 CAD (funding dependent) and may engage with this experience digitally and/or in-person.
This project is developed in collaboration with, and led by, Vie Jones. Vie is a local Two-Spirit Anishinaabe artist who has framed collective collaboration approaches under Anishinaabeg pedagogical approaches and ontologies, rooted in concepts of the Medicine Wheel and traditional knowledge. Outside of the 13 youth artists, the project will also feature a roster of community guest artists.
Using the Medicine Wheel and other intergenerational teachings gifted through ceremony and community, this project examines the essence of interrelational collaboration and support for mutual success. LUCID is a collaborative creation project that asks artists, storytellers, performers, and community knowledge keepers to come together and respond to the question "What kind of future do you dream of?" It is the opportunity to share the stories that define our own experiences and collectively shape the way the act of collective dreaming can lead us toward liberation. The process is designed to bring together the community dreamers into a process that is centred in an ethic of reciprocal care and consent. We will look at the very ways in which we think, create, and dream, and how these are shaped by our experiences. By seeking and working with local community Elders, this knowledge will be cared for and proper cultural protocols observed.
LUCID takes place over seven months (January 2023 - July 2023) and features seven virtual sessions of workshopping and development with the chosen participants. Each session is led by Vie Jones and a guest artist to offer varying routes of artistic practice, inspiration and perspectives. These sessions will have a focus on community, collaboration, and self-care with the focused intent of telling our stories of queer resilience through art. These sessions will be supported by the HEIST team.
The seven sessions will lead each participant to creating their own short work which will be supported and presented within a hybrid event; an in-person and livestreamed cabaret at The Bus Stop Theatre. These original works may take a variety of forms depending on the contingent of participants.
This project is rooted in an ethic and responsibility of care, furthing HEIST's commitment towards intentional community building, collaboration with local QTBIPOC artists, incorporation of Anishinaabeg pedagogies towards development of decolonial space, and expanding current practices towards digital curation.
Applications Are Closed
APPLICATIONS DUE NOVEMBER 15th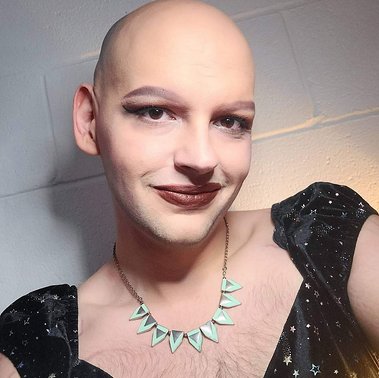 Vie Jones - Project Lead
(they/them)
As part of the Maritime saying, I am a "come from away." This term refers to the fact that like many others, I am not from the Maritimes. I grew up in Northern Ontario, both on and off - reserve. From a young age my parents actively nourished my connection to my Anishinaabek roots through access to language classes throughout primary school, ceremony, community connection, and connection to the land. My relation to the land was not the same as my peers, and the wonder I found existed not in the activity of the land, but its moving stillness. To me it became a place of stories, as I also learned the stories of Nanabush and the land itself. My effeminate queer nature was home in this space, but could not find a home in reality.
Moving from this community of connection and support into rigid bureaucratic systems of compulsory secondary education led to many struggles. Before being able to identify and support my needs, I had experienced incredible social difficulty, unemployment, and temporary homelessness. I am fortunate enough that now at the age of 33, I have finished two college programs and a BFA, and enrolled in a Master's program. My education has presented me with many opportunities, and I find it part of my own responsibility to give back to the communities that have supported and loved me, because I wouldn't be here without them.
My chronic illness, responsibilities of my divergent brain, and experiences of mental health have made evident the need for care to be at the forefront of how I work, and how care is regularly unsupported and hard to access within the systems we find ourselves. This project is built on an ethic of collective care and accommodation of difference from an intersectional perspective. It is my hope to invite what traditionally gets left behind in spaces like these, and the need to perform as a digestible version of our authentic self in order to access these opportunities.
LUCID came from the idea of bringing our dreams to life. Dreams offer the opportunity to defy limits with just a thought. Can we blur the lines of impossible dreams and bring them into reality?
Sylvia Bell - Production Manager
(she/her)
I have been working as a stage and production manager for over 20 years, my life experience speaks from a mixed race family, that of white settler and African Nova Scotian roots. I am confident that those who know me, know I do things a little differently. Making space for the dreaming, the hard conversations and the ever changing schedules and budgets; it is all important. And it is important that it be done with kindness and truth leading the way. Lucid asks the question "what kind of future do you dream of?" I dream of communities leading the way with truth, acceptance and adaptability with an understanding towards the lives we live outside our working selves. A world where it is okay to show up just as you are and it is safe for you to do so. Heist unabashedly insists on truth speaking and embracing the discomfort of learning in public. Through our previous and continued work with Vie and the LUCID project I hope we send 13 more humans into the world who have experienced a creation process built to serve their best selves. A process that speaks to the interconnectedness between us humans and all the living things we interact with each day. A process that confirms there is a better way.
Aaron Collier - Technical Director
(he/him)
I have had the privilege of working in the performing arts in multiple capacities for the past 20 years including as a musician, designer, writer, actor, and technical director. My white settler heritage is from mixed European backgrounds including predominantly English and French and the realities of how I have come to be born and raised here, in Mi'kma'ki, are being revealed to me in myriad illuminating ways. Working with Vie has always been a process that involves whole selves, not just the people we are at work or as artists, but the people we are in our truth, even if we're just trying to figure that out. LUCID to me is the opportunity to share knowledges and create art that is about and for true selves in community, that prioritizes long-term well being over short term comfort or success, that normalizes care and reciprocity among the human and non-human worlds, and that ultimately dares to imagine that a better future already exists.

Richie Wilcox - Producer
(he/him/they/them)
The pandemic and continued social rights movements have led us to reflect on how things are done, what systems are in place to allow what voices to get heard and how. LUCID feels to me like a way in which we continue to question and challenge how we approach living in this world, who makes art and how they make it. It is a way to shake up the colonial system an dream about art and art-making in ways full of collaboration, care and respect. The chance to collaborate with Vie Jones, to learn as a person and an artist and to support and uplift the work of other artists is undeniably exciting to me. As a fiercely queer artist who thrives on community, I can't wait to extend our HEIST family with the participating emerging artists and knowledge keepers and see what futures we can imagine together.
Support LUCID
Help create the future you dream of by supporting LUCID! Your donations will help lift new visionary voices and stories for a better tomorrow, and help us in our quest to make LUCID an on-going program for the years to come. Charitable tax receipts are available!

MAKE A DONATION
*please note your donation is toward LUCID in the private message section of the form.